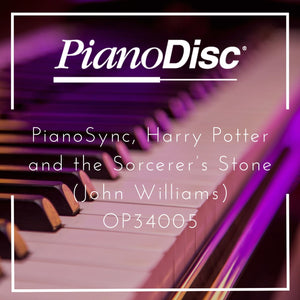 For use with PianoDisc Systems only
The amazing movie score from Harry Potter and the Sorcerer's Stone (also called the Philosopher's Stone) by John Williams and recorded in a London studio orchestra with members of the London Symphony Orchestra and the London Philharmonic Orchestra is a favorite across the globe. In a USA Today interview, Williams says," I wanted to capture the world of weightlessness and flight and sleight of hand and happy surprise. This caused the music to be a little more theatrical than most film scores would be. It sounds like music that you would hear in the theater rather than the film."
The live piano accompaniment that plays with the album was composed and performed by PianoDisc recording artist and composer, Jarrod Radnich. For more about Radnich, visit the news stories on this website and visit www.JarrodRadnich.com.
Track List:
Prologue
Harry's Wondrous World Audio Preview
The Arrival of Baby Harry
Visit to the Zoo / Letters from Hogwarts
Diagon Alley / The Gringotts Vault
Platform Nine-and-Three-Quarters / The Journey to Hogwarts
Entry Into the Great Hall / The Banquet
Mr. Longbottom Flies
Hogwarts Forever! / The Moving Stairs
The Norwegian Ridgeback / A Change of Season Audio Preview
The Quidditch Match Audio Preview
Christmas At Hogwarts Audio Preview
The Invisibility Cloak / The Library Scene
Fluffy's Harp
In the Devil's Snare / The Flying Keys
The Chess Game
The Face of Voldemort
Leaving Hogwarts Audio Preview
Hedwig's Theme Audio Preview